Starting from: $9,059 Price includes transport and preparation fees.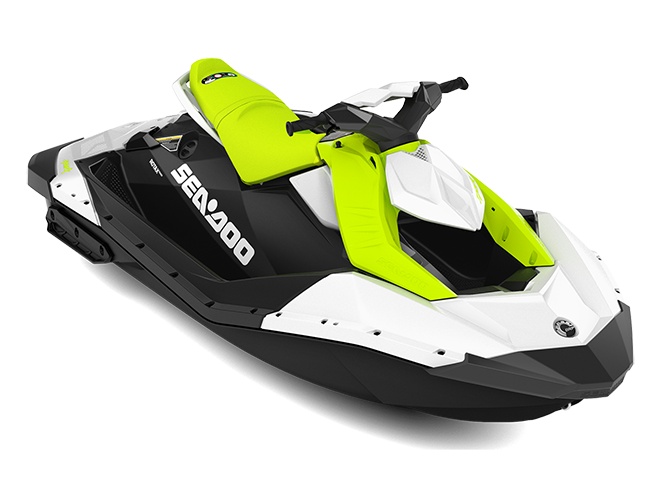 Manufacturer: Sea-Doo
Model: Spark 2 up Manta Green/White
Year: 2023
Type: Rec Lite
Engine: 60
90
Type: 900 Ace™- 60
900 Ace™- 90
Engine Horse Power: 60 Hp
90 Hp
Engine Intake System: Naturally Aspirated
Cylinders & Displacement: 899 Cc
Engine Cooling: Closed-loop Cooling System (clcs)
Engine Reverse System: Manual Reverse Kit (accessory)
electronic Ibr®* (optional)
Engine Fuel Type: 87 Octane
Engine Throttle System: Itc™ (intelligent Throttle Control) System
Engine Exhaust System: D-sea-bei™ System
Rider Capacity: 2
Weight Capacity: 160 Kg / 352 Lb
Fuel Capacity: 30 L / 7,9 Us Gal
Storage Capacity Of The Glove Box: 1,6 L / 0,42 Us Gal
Storage Capacity Of The Front Bin: 27 L / 7 Us Gal (900 Ace™- 60 Accessory)
Vehicle Length: 279 Cm / 110"
Vehicle Width: 118 Cm / 46.4"
Vehicle Height: 104,5 Cm / 41,1"
Dry Weight: 192 Kg** / 423 Lb
Features: Convenience Plus Package (opt. With 90 Hp Models Only) : Ibr® – Intelligent Brake & Reverse, Front Storage Bin Kit, Boarding Step, Rf D.e.s.s.™ Key
slim Seat
linq® Attachment System (accessory)
wetgrip Footboard
knee Pads
handlegrip With Palm Rests
tow Hook
seat Strap
Hull Type: Spark® Hull
Hull Material: Polytec™
Type Of Gauge: Compact
Gauge Main Functions: Speedometer
rpm
vehicle Hours
sport Mode (90 Hp Only)
Warranty: Brp Limited Warranty Covers The Watercraft For One Year.